Discernment & Accompaniment
Spiritual Direction For Women
Subscribe to our newsletter
Are you desiring guidance in living a life of union with Christ through prayer, acesis, and the sacraments, but you experience a problem in finding a guide that is learned, experienced, and available to journey with you?
Are you frustrated and saddened by the lack of formation, resources, and opportunities as you seek to be configured to our Lord and supported in His loving call for you?
In the midst of this noisy world and without support, are you tempted to lose sight of your identity, your Lord, and your place in the mystery of salvation?
Mary and Elizabeth offers services of individual spiritual direction, formation, outreach, and retreats by trained missionaries and a network of trained directors with extensive experience in accompanying women.
It is our hope that every woman who has desire and intent may have the resources and opportunities to be guided, affirmed, and supported in her interior renewal and personal preparation toward configuration of her person to that of Our Lord Jesus and the Blessed Virgin, the highest expression of the 'feminine genius; and a source of constant inspiration.'
"I offer you my prayer and word of support as you venture into a new work, the Mary and Elizabeth House. This Center has the potential to serve the women of the Diocese in a new and powerful way, bringing much needed direction and care to those seeking a deeper discipleship in the Lord Jesus."
– Very Rev. David Talley, Bishop of Memphis
We offer opportunities for those who are far advanced to ascend higher and those just beginning the journey to find the right footing.  Whether in person or virtually, it is our joy to accompany you. 
Is there a way we can serve you?
"One cannot have recollection (an abiding sense of the presence of God throughout the day) if she does not make her meditation….We need God.
We must be united to Him or else we will not do good."
"How rare it is to find a valiant woman! It is perhaps necessarily so, since Scripture says that they are more precious than pearls and diamonds. Let us however work to train a few. For in this century we must no longer count on men to preserve the faith. The grain of faith that will be saved will hide itself among women. A woman cannot remain neutral in the world. She too is set for the fall and resurrection of many. How different are God's thoughts from ours!
"From the moment Jesus gave me a spiritual director I have been more faithful to grace..."
He who has a director... will reach his goal more easily and more quickly than if he acted as his own guide, even if he be very intelligent and have the very best of spiritual books.
The fundamental objective of the formation of the lay faithful is an ever-clearer discovery of one's vocation and the ever-greater willingness to live it so as to fulfill one's mission...To be able to discover the actual will of the Lord in our lives always involves the following: a receptive listening to the Word of God and the Church, fervent and constant prayer, recourse to a wise and loving spiritual guide, and a faithful discernment of the gifts and talents given by God, as well as the diverse social and historic situations in which one lives. #58
Are you intentionally discerning consecrated life in the Catholic Church? Are you already privately or publicly given to the Lord through virginity or chastity and desiring further formation and community?
We additionally offer outreaches of vocational formation, programming, and community.
"The woman's soul is fashioned as a shelter in which other souls may unfold."
Learned, Experienced, and Available Network of Spiritual Directors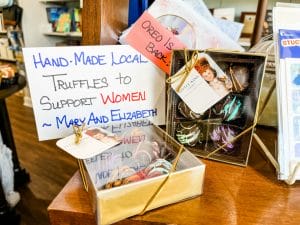 Little King Candies is a fundraising effort to support the programming costs of Mary and Elizabeth. The candies (truffles) were made with prayer and care, in
Read More »
In March, two of our missionaries traveled with eight women (18-35) from Memphis and met up with several others served through Mary and Elizabeth for
Read More »
Post-college life can be difficult. You are juggling the balance between self-care, recreation, work, relationships, vocation, and your faith life. This time period can be
Read More »
During the crazy months of COVID lockdown, as the world worried and tried to understand this pandemic, my pastor in Connecticut, Fr. Michael Casey, made
Read More »